Dec. 29, 2015 (Gephardt Daily) — Two releases for home viewing hit the streets today. "Hitman: Agent 47" is a reboot of 2007's very cool "Hitman." Robert Redford and Nick Nolte go on a buddy hike to find themselves in "A Walk in the Woods."
"Hitman: Agent 47"
Starring: Rupert Friend and Zachary Quinto
Directed by: Aleksander Bach
Rated R
Rupert Friend is dressed to kill in this sequel to 2007's "Hitman." He plays an elite assassin who was genetically engineered to be the perfect killing machine and is known only by the last two digits on the barcode tattooed on the back of his neck.
In an effort to discover his past, he teams with a young woman, confronts stunning revelations about his own origins, and squares off in an epic battle with his deadliest foe.
A high body count, gratuitous comic book violence may sound cool, but the film is just confusing and pedestrian.
A forgettable script populated with really a lot of bloody, violence with such a small payoff at the end, this journey isn't worth even the first step.
"Hitman: Agent 47" gets a D and is rated R.
"A Walk in the Woods"
Starring: Robert Redford and Nick Nolte
Directed by: Ken Kwapis
Rated R
"A Walk in the Woods" focuses on celebrated travel writer Bill Bryson, who, instead of retiring to enjoy his loving and beautiful wife and his large, happy family, challenges himself to hike the Appalachian Trail – 2,200 miles of America's most unspoiled, spectacular and rugged countryside from Georgia to Maine.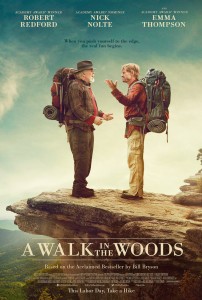 The peace and tranquility he hopes to find, though, is anything but, once he agrees to bring along the only person he can find willing to join him on the trek – his former friend Katz, a down-on-his-luck, recovering alcoholic who has spent a lifetime relying on his charm and wits to keep one step ahead of the law.
"A Walk in the Woods" is a breezy buddy comedy. It's about coming to terms with yourself, and features moving dialogue between Redford and Nolte. But Nolte is almost inaudible at times, and requires subtitles as the discussion covers topics from youthful philandering to the pangs of old age.
The film has some genuinely funny moments, but like the hike itself, is a bit hard to get through in some places.
All in all "A Walk in the Woods" is a very likable film.
It gets a B- and is rated R.