Cambodian TV Prank Backfires After Hosts Fool Teen On Mother's Day
PHNOM PENH – Cambodia, May 12, 2015 (UPI) —A prank on Cambodian television backfired when an American teenager was fooled into believing she would be reunited with her mother.
The Mother's Day prank was played on 13-year-old Autumn Allen, who appeared on Cambodian channel MyTV's variety showPenh Chet Ort (Like It Or Not), reported The Phnom Penh Post.
Autumn, a TV regular and multilingual singer, was told she was going to meet her mother, whom she had not seen since she was six.
But after a build-up moment to an emotional climax, Allen instead came face-to-face with cross-dressing Cambodian comedian Chuop Rolin.
"What are you thinking, did you think it was real?" one of the presenters asked Autumn.
"I don't know," she said with a giggle.
Sky News reported the show's producers have become the target of angry comments and condemnations.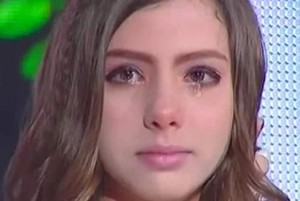 One viewer, Kanika Chhit, said on Facebook that the producers had played a "brainless and shameful trick."
"How can you play with her feeling like this?" she wrote.
Ou Virak, a political analyst, said, "playing around with the mind and heart of a 13-year-old girl in this way" was "stupid and brainless and heartless."
The show's producers have since admitted the stunt was a "mistake" and they just wanted to make Autumn smile.
They said they are planning a special program for her.
Autumn said she takes the prank in good humor and that she had fun on the show.
"My dad was very proud of how I handled myself in the situation. He took me to a nice restaurant afterward," she told The Phnom Penh Post.
Autumn and her father moved to Cambodia when she was six. She has since lost touch with her mother, who she said may be living in Scottsdale, Ariz., but keeps changing her phone number.