HOUSTON, Aug. 7 (Wade Sheridan ) — Chris Brown took to Twitter Friday unloading clear messages about his daughter Royalty's mother, model Nia Guzman.
The tweets without outright naming Guzman, reflect the singers thoughts on how he believes she is using their daughter as a "meal ticket".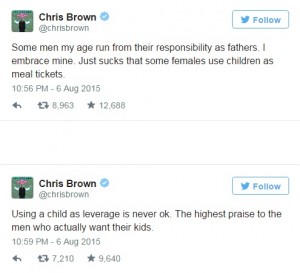 The two parents have had a rocky relationship ever since the 26-year-old musician found out he was the father months after the child's birth. This has included Brown recently filing paperwork to establish paternity so that he could visit Royalty unsupervised and with Guzman demanding more in child support money.
During the 2015 BET Awards, Brown had this to say about his daughter. "A lot has changed in my life, a lot of mistakes, a lot of lessons learned. The best thing, I'm most thankful for is my daughter."