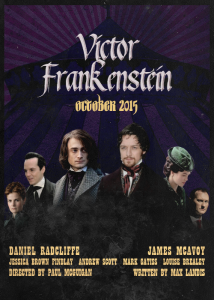 August 18, 2015 (Gephardt Daily) — "Victor Frankenstein" stars Daniel Radcliffe and James McAvoy in a retelling of the 'Frankenstein' legend told from Igor's perspective.
Radical scientist Victor Frankenstein (McAvoy) and his equally brilliant protégé Igor Strausman (Radcliffe) share a noble vision of aiding humanity through their groundbreaking research into immortality.But Victor's experiments go too far, and his obsession has horrifying consequences.
Only Igor can bring his friend back from the brink of madness and save him from his monstrous creation.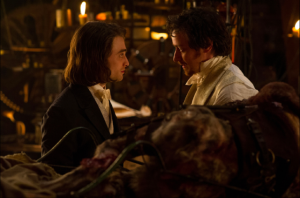 In the film, we experience the troubled young assistant's dark origins, his redemptive friendship with the young medical student Viktor Von Frankenstein, and become eyewitnesses to the emergence of how Frankenstein became the man – and the legend – we know today
The movie also features Jessica Brown Findlay, Andrew Scott and Freddie Fox. "Victor Frankenstein" is expected to arrive in theaters on Nov. 25.