NEW YORK, Oct. 26 (UPI) — Demi Lovato and Nick Jonas will embark on a joint tour in 2016.
The singers and Camp Rock co-stars, both 23, announced the news in an interview Monday on the Elvis Duran Show, saying they're looking forward to going on the road together.
"We're doing quite a few nights," Lovato revealed. "The tour is called Future Now. We're really excited because we're both at a point in our lives where we're really happy with the way things are going in our careers and we're also business partners."
"When I think about going on the road, I think about the opportunity to see my fans every night," she added before Jonas chimed in, "Getting in front of the fans and being in a different city every night is really special."
The pair later answered fan questions in a SiriusXM Hits 1 Facebook Q&A, saying they will "most likely" debut a new collaboration on the tour. Lovato released her fifth studio album, Confident, this month, while Jonas last debuted Nick Jonas in November 2014.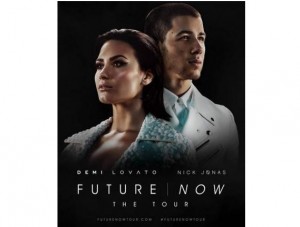 Lovato and Jonas will kick off the tour June 24, 2016, in Sunrise, Fla., and bring the endeavor to a close Sept. 17 in Los Angeles, Calif. The pair played Mitchie and Nate in Camp Rock, respectively, and co-founded Safehouse Records this year.