BURBANK, Calif., July 19, 2016 (Gephardt Daily) — Garry Marshall, the prolific director of such films as "Pretty Woman," "The Princess Diaries" and "Runaway Bride," has died from complications of pneumonia following a stroke. He was 81.
Marshall, who was a pioneer of TV sitcoms in the late 1960s and throughout the 1970s, created popular TV series such as "Happy Days" and its various spinoffs, and developed Neil Simon's 1965 play "The Odd Couple" for television.
Marshall began his career in New York as a joke writer for such comedians as Joey Bishop and Phil Foster, and then became a writer for "The Tonight Show" with Jack Paar.
In the early 60s he moved to Hollywood, where he worked on "The Dick Van Dyke Show," "The Joey Bishop Show," "The Danny Thomas Show" and "The Lucy Show," with writing and producing partner, Jerry Belson.
Marshall and Belson created and produced their first TV series, "Hey, Landlord," which lasted one season from 1966 to 1967.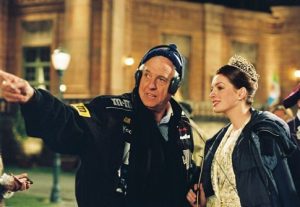 They then adapted "The Odd Couple" for television. The series starred Jack Klugman and Tony Randall.
In the '70s, Marshall, created "Happy Days," "Laverne and Shirley," (starring his sister Penny Marshall) and "Mork & Mindy," effectively launching the careers of Robin Williams and Henry Winkler.
After the 1970s, Garry Marshall focused on directing feature films, with hits including "Beaches," "Pretty Woman," "The Princess Diaries," and more recently "Valentine's Day," "New Year's Eve" and "Mother's Day," which was released April 29.
Marshall wasn't camera shy, and actually made his TV acting debut starting as a child with a recurring role in the long-running series "The George Burns and Gracie Allen Show," which ran on CBS from 1950 to 1958.
Marshall also appeared on TV on "Murphy Brown" and on the big screen in "Soapdish," opposite Sally Field, Kevin Kline and Robert Downey Jr.
Marshall was awarded the Women in Film Lucy Award in 1996 in recognition of excellence and innovation in creative works that have enhanced the perception of women through the medium of television.
The next year Marshall was inducted into the Television Hall of Fame for his contributions to the field of television.