LOS ANGELES, CALIFORNIA – September 2, 2105 (Gephardt Daily) — Perennial Disney actor Dean Jones has died. The actor was 84.
Jones passed away in Los Angeles late Tuesday, according to his publicist, Richard Hoffman. The cause of death is reportedly related to Parkinson's disease which Jones had been suffering with.
Jones excelled at playing the 'all-American guy' who were charming and down to earth.
Known for his work in such family films as "The Love Bug," "That Darn Cat!" and "The Million Dollar Duck." Jones starred many movies and TV shows in the 60's and 70's.
In addition to his film work, Jones originated the role of Bobby in the original Broadway cast of Stephen Sondheim's "Company" in 1970.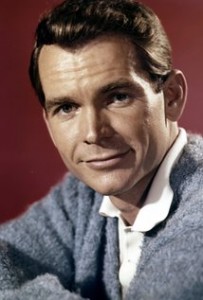 One of his first for Disney. "The Love Bug," became one of the highest-grossing films of 1968. The film became a short-lived TV series in 1982 called "Herbie, the Love Bug."
Jones' other films include "The Shaggy D.A.," "Snowball Express," "Herbie Goes To Monte Carlo," "Blackbeard's Ghost" and was seen in 1994's "A Clear and Present Danger."
Jones' film grosses exceeded $960 million and six of his ten films for Walt Disney are on Variety's all-time hit list," according to his obituary sent through his publicist's office.
In more recent years, Jones worked in TV and doing voice-overs.
The Hollywood Reporter published the following about Jones' early years in the business:
"Born Dean Carroll Jones on Jan. 25, 1931, in Decatur, Alabama, Jones served in the Navy during the Korean War and attended Asbury University in Kentucky. He started his career as the host of a local Alabama radio show, Dean Jones Sings, and as a producer of stage shows.
"Signed by MGM, Jones made his film debut opposite Paul Newman in the boxing film Somebody Up There Likes Me (1956), and Jailhouse Rock (1957) with Elvis Presley soon followed.
"Jones bowed on Broadway in There Was A Little Girl opposite Jane Fonda in 1960 and was in Under The Yum-Yum Tree in the same year."