WASHINGTON D.C., Dec. 31, 2015 (UPI) — Two writers are suing director Quentin Tarantino for allegedly infringing on the copyright of a screenplay they say ultimately became "Django Unchained."
Filed Dec. 24 in Washington, D.C., the lawsuit also names The Weinstein Company and Columbia Pictures as defendants.
Oscar Colvin, Jr. and his son Torrance Colvin claim their screenplay, "Freedom," is eerily similar to the Oscar-winning 2012 film starring Jaime Foxx, Christoph Waltz, Leonardo DiCaprio, Kerry Washington and Samuel L. Jackson. Tarantino credits Sergio Corbucci's Django for inspiration.
"There are a plethora of similarities between Freedom and Django Unchained," the lawsuit alleges, according to Variety. "Defendants would call them coincidence, however, the intentional use of our work is neither an accident nor coincidence."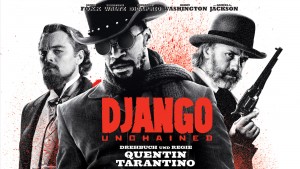 "Django Unchained" follows the story of Django Freeman, a slave played by Foxx who is contracted by a German bounty hunter, played by Waltz, during the post-Civil War era to help him collect three bounties in exchange for his freedom. Django's goal is to ultimately save his loved ones from the hands of a dangerous plantation owner, played by DiCaprio.
The Pulp Fiction director's successful Western has grossed $425 million worldwide since its release.
The Colvins, asking for "in excess of hundreds of millions of dollars," claim they "provided the heart, bones and muscles to develop the unique idea that eventually would be transformed into Django Unchained," calling Tarantino an "admitted thief" who himself has said he stole elements "from every single movie ever made."
"Defendant Tarantino took the plot lines and main story of "Freedom" and Tarantino-ized them," the suit said.
Neither the director, Weinstein Company nor Columbia Pictures have commented on the matter.