WATCH HILL, R.I., July 6 (UPI) — Pop star Taylor Swift was photobombed on Monday by singer-songwriter Ed Sheeran, who decided to lock lips with his girlfriend in the background of Swift's photo.
Swift hugs her best friend Abigail Anderson in a photo posted to Instagram and trumpets Anderson's engagement to her boyfriend Matt with a nod to the love happening behind them.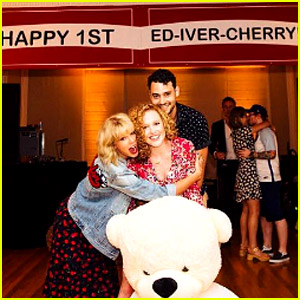 "'Love actually is all around,' Congratulations guys," Swift wrote, tagging Abigail and Sheeran, who is seen in the background kissing his girlfriend Cherry Seaborn.
Swift hosted an epic Fourth of July bash at her Rhode Island mansion over the long weekend for her famous crew of friends including Cara Delevingne, Gigi Hadid, and Swift's new boyfriend, "Avengers" star Tom Hiddleston.
Swift and Hiddleston's new romance was made Instagram official over the weekend as well, with the couple appearing in a photo alongside Ryan Reynolds and Blake Lively.