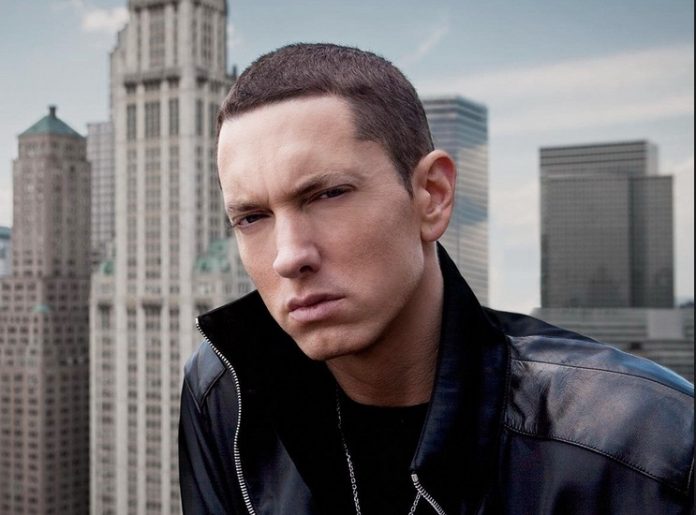 In a genre that hasn't skimped on the degradation of women, the forthright rapper stands out for his alarmingly violent lyrics — most recently, freestyling in a video this month that he will "punch Lana Del Rey right in the face twice, like Ray Rice," before threatening to rape Iggy Azalea, on leaked track Vegas.
And that's just his latest offering. As far back as the 1999 song My Name Is, Eminem rapped that he ripped off Pamela Anderson's "(boobs) and smacked her so hard I knocked her clothes backwards like Kriss Kross." Jennifer Lopez, he "nailed … to the railroad" on 2013's Symphony in H, and on 2000's Off the Wall, he was "causin' terror to Christina Aguilera/When I grab her by the hair and drag her across the Sahara."
While his demeaning lyrics have long been a point of contention (a 2000 profile of the rapper by the Guardian labeled him a "misogynist, homophobe, (and) hero"), the arrival of his double-disc compilation album Shady XV on Monday reopens the debate among critics. Why, in 2014, do fans still give him a pass on intolerance? And will the tides of public opinion ever turn against him?
Likely not, says Brittany Lewis, senior music editor at pop-culture site GlobalGrind. "Quite frankl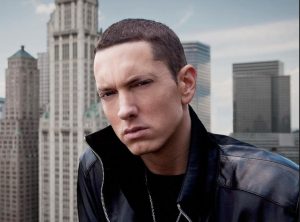 y, Eminem could put out an album of him yodeling and people would still buy it," she says. "His fan base is that real, and at this point, there's really nothing he could ever do to lose that."
Part of the reason people continue to embrace the 42-year-old rapper (born Marshall Mathers) is because he has operated this way from the beginning, Lewis says. "Since it's been, like, 15 years of these really sadistic fantasies that he likes to rap about, people are like, 'Oh, he's harmless,' " she says. "If some of this stuff lined up with his actual life, like if he actually got charged with domestic violence, then people would think differently."
Another reason he can get away with lyrics about raping his mother (Kill You), murdering his ex-wife (Kim) and killing "every last woman on Earth" (Nicki Minaj's Roman's Revenge) is that he does so under the guise of rap persona Slim Shady, introduced on the 1997 EP of the same name.
"In his music, he often goes to great lengths to signal his creation of an alter ego: a stage name (Eminem) and (persona) Slim Shady, to remind us, explicitly, that this is made up," says Erik Nielson, an assistant professor at the University of Richmond in Virginia who teaches hip-hop culture classes. As a winner of 13 Grammy Awards and the second-best-selling male artist of all time (behind Garth Brooks), Eminem is also "widely regarded by casual fans and hip-hop aficionados as one of the most talented MCs in the game, lyrically."
But with more intense scrutiny by the media and social media, would Eminem be able to sustain such career longevity were he coming up as an artist in 2014? After all, younger rappers such as Tyler, the Creator and Hopsin haven't achieved near those levels of mainstream success, even while their lyrics also have an aggressive nature. Issues of domestic violence and rape have also become hot-button topics on college campuses, in the NFL and in entertainment, including recent accusations against Bill Cosby.
The answer is still "yes," says Chuck Creekmur, CEO of AllHipHop.com, noting how the rapper has been feeding off controversy long before his threats against Del Rey and Azalea.
"Em's hit various valleys an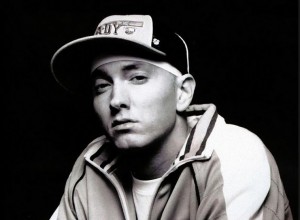 d mountaintops in his career, and now that he's been away for a while, he needs to get people talking, generate controversy and get awareness around the album," Creekmur says of the rapper, whose The Marshall Mathers LP 2 has sold more than two million copies since last fall, according to Nielsen SoundScan. "Controversy sells, and all press is good press. We haven't heard a lot about Eminem recently and now we're hearing a lot about Eminem."
In light of such controversy, Eminem has jumped to defend himself in the past — telling Anderson Cooper in 2010 that he feels "attacked" and wonders if he gets such flak "because of the color of my skin." And while his lyrics may be "completely unacceptable" in 2014, Lewis says, the problem is not just limited to him.
"Hip-hop's moving into a more accepting space, but the recurring themes of misogyny and violence are always going to be a part of the culture," Lewis says. "The culture was born in the streets, so that's always going to be an element (of that). Until every single rapper comes from a two-parent household in suburbia, hip-hop music will have violence and misogyny in it."