Erin Andrews Explains Eye Roll During Noah Galloway's Proposal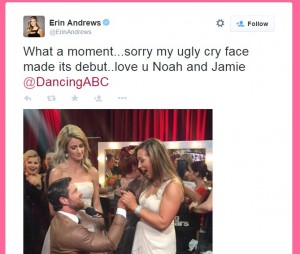 LOS ANGELES, May 12 (UPI) — Erin Andrews wasn't annoyed by Noah Galloway's proposal Monday on Dancing with the Stars.
The 37-year-old television host claimed as much on Twitter after appearing to roll her eyes during the war veteran's proposal to Jamie Boyd. Scores of fans subsequently took to social media to attack Andrews, who insisted she made the face to hold back tears.
"It's called emotion..as in, oh my gosh I'm going to loose it right here," she tweeted in response to one such critic before adding, "Uhhhhh it's called an oh great I'm going to bawl on camera..ugly cry face alert."
Andrews was spotted making other faces during the evening, such as her agitated eye roll at the end of the show. The Fox sportscaster also addressed the moment on Twitter, telling followers her producers were telling her to wrap.
Dancing with the Stars season 20 airs Mondays and Tuesdays at 8 p.m. ET. Galloway and partner Sharna Burgess, Nastia Liukin and Derek Hough, Riker Lynch and Allison Holker and Rumer Willis and Val Chmerkovskiy will face elimination Tuesday before the finals next Monday.