SALT LAKE CITY – October 10, 2015 (Gephardt Daily) — "Just Let Go," which was released in selected theaters, tells the story of Chris Williams, who lost his pregnant wife and two children in a horrific traffic accident.
The tragedy was just the beginning of Chris' story. Facing soul-crushing grief, guilt and an unknown future, Chris was struggling with what was truly justice. His wife and two kids were gone, and nothing he did would change that fact.
Chris told me, "Moments after the accident, as I knew my wife and children were gone, I heard a voice as plain as day that said, 'Just let it go.'"
The young man who caused the accident was just 17 and the court system was deciding between trying him as an adult or as a juvenile. The difference is; as an adult the young man would be facing a 30-year sentence. As a juvenile his sentence would end when he was 21.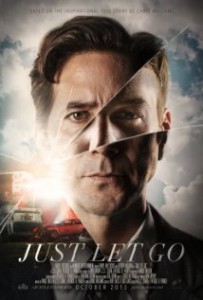 As the court was deciding the young man's trial status, Chris remembered the message he received.
Thinking about the consequences and weighing the true meaning of justice, Chris did an amazing thing, he pleaded for the young man to be tried as a juvenile telling the court that justice would not be served by locking this young man away for 30 years.
In his act of forgiveness, Chris in effect saved the life of the young man who had done so much damage to his family.
On one particular visit to the prison, the young man asked Chris, "How can I possibly make this right?" Chris told him he was forgiven and to begin the process of healing. He added, "Pick a date and on that date you will forgive yourself, and just let it go."
The young man was eventually released and followed Chris' example and advice. A few years ago, he got married and Chris Williams attended the wedding.
Chris has since remarried as well and travels the country as a guest speaker talking about the power of forgiveness.
The new film "Just Let Go," which is based on Chris' remarkable story is in selected theaters now. It stars Henry Ian Cusick, Brenda Vaccaro and Sam Sorbo.