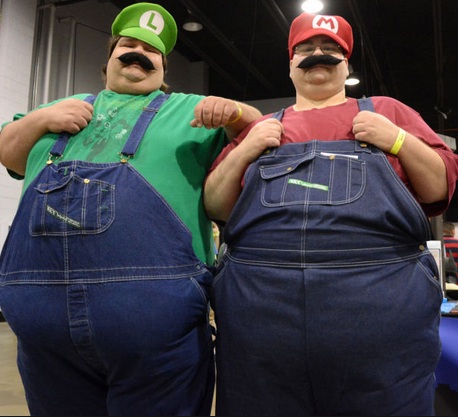 FanX: The Fandom Menace
It's only January, but it has already been a big year for celebrities in Utah, thanks to the Sundance Film Festival. But it's about to get a lot bigger. Salt Lake Comic Con's second annual "FanXperience" or "FanX", is about about to descend on the Salt Palace, and downtown will be the place to get your geek on.
The first Salt Lake Comic Con was held September 5-7, 2013 and was produced by Dan Farr Productions. Originally planned for the South Town Expo Center in Sandy, Comic Con quickly sold so many tickets that they were forced to change to a bigger venue. According to Comic Con officials, between 70,000 and 80,000 people attended on Saturday before tickets sold out, making it the largest inaugural comic con in North America, and the largest convention ever held in Salt Lake City. The following April, Salt Comic Con FanXperience broke those records with over 100,000 people in attendance, making it the third largest con in the United States.
Only three months after the last Salt Lake Comic Con, Dan Farr Productions is back with a second FanX, running January 29-31, and it promises to be huge. The feature attraction, "The Doctor Who Experience," is already sold out, but FanX promises to have plenty of unforgettable experiences to go around.
[one_fourth]
[/one_fourth][three_fourth_last]
Josh Twelves, a 38-year-old actor from West Valley, is looking forward to seeing the various costumes and booths at FanX this year. Twelves, who suffers from Arthrogryposis which leaves him confined to a wheelchair, provided one of the more memorable moments of September's Con when he asked Princess Bride star Cary Elwes to help him achieve a longtime dream by performing the "Battle of Wits" Scene with him in front of a packed house: a request that an obliging but nervous Elwes agreed to, only to discover that his memory of the scene wasn't as good as that of his fans. "He had to use someone's smart phone to read his lines" Twelves says with a smile. " I remember my lines."
As the second FanX draws closer, the anticipation level is reaching a fever pitch.
"FanX is all about the fans," says Chris Provost, Assistant Director of Events and MC for Comic Con and FanX. "We are making this experience a little more intimate for the fans. The reason FanX is so fun is that all cultures are represented: movies, TV shows, authors and artists. Everyone can find something they like at FanX."
Kerry Jackson of Radio From Hell and The Geekshow Podcast is a regular moderator for celebrities at Comic Can and Fanx, but he says that the celebrities aren't what draws him to it. "I love meeting and hanging out with fellow geeks," he says. " Seeing that what was something you kept quiet about is now mainstream and embraced. That's like fuel to me."
At present 50,000 people are expected to attend FanX, but don't be surprised if those numbers are surpassed as Dan Farr Productions continues to deliver above expectations.
For more information go to www.saltlakecomiccon.com.