Film Reviews: "Ant-Man," "Mr. Holmes" and "Trainwreck"

Salt Lake City – Friday July 17, 2015 — (Gephardt Daily) — With three very different films hitting theaters this weekend, the box office watchers are predicting "Ant-Man" to open with around $60 million dollars in domestic receipts. The new Marvel film will open across the USA in 3,856 theaters. "Trainwreck" starring Amy Schumer is predicted to earn around $25 million its first weekend out.
The Odds Makers Box Office Predictions
1. Ant-Man – $60 million
2. Minions – $55 million
3. Trainwreck – $25 million
4. Jurassic World – $11 million
5. Inside Out – $10.5 million
"Ant-Man"
Starring: Paul Rudd and Michael Douglas
Directed by Peyton Reed
Marvel Studios / Rated PG-13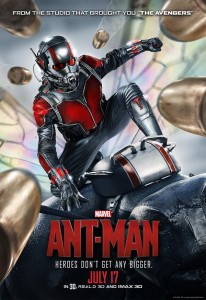 Armed with a super-suit with the astonishing ability to shrink in scale but increase in strength, con-man Scott Lang must embrace his inner hero and help his mentor, Dr. Hank Pym, plan and pull off a heist that will save the world.
The film offers up a nearly perfect balance of humor and action as we follow Paul Rudd's reluctant hero on his journey to greatness. What I liked most about the film is that it never takes itself too seriously, and yet the audience is drawn in to the adventure.
Ant-Man is a wonderfully executed action / adventure movie with a great sense of humor. It gets an A and is rated PG-13
"Mr. Holmes"
Starring: Ian McKellen and Laura Linney
Directed by Bill Condon
Miramax / Rated PG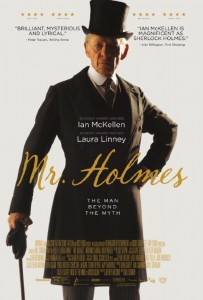 Set in 1947, the story follows a long-retired Sherlock Holmes living in a Sussex village with his housekeeper and rising detective son.
Ian McKellen takes on the role of Holmes in a very subdued way. Holmes is trying to live with the myth created years before by Dr. Watson. Holmes is almost apologetic for being so ordinary.
Now as Sherlock Holmes is dealing with the effects of old age, the loss of his memory and the emotional need to solve a case over 50 years old, the question is; can solving this one case right the wrongs in his life?

This is a wonderfully acted and moving story with McKellen in top form. Hopefully this film will be seen and enjoyed. It gets an A and is rated PG.
"Trainwreck"
Starring: Amy Schumer and Bill Hader
Directed by Judd Apatow
UNiversal Pictures / Rated R
Amy, played by Amy Schumer, has had it driven into her head that monogamy isn't realistic.
Now a magazine writer, Amy is enjoying an uninhibited life; but in actuality she's in a rut.
When she finds herself starting to fall for a charming and successful sports doctor, played by Bill Hader, Amy starts to wonder if she might be wrong.
Written by Amy Schumer and directed by Judd Apatow, "Trainwreck" is a smart and funny adult comedy and makes no apologies for it's brazen, sexual and offensive humor.
Schumer's comedy star is quickly rising, the comedienne has taken over the internet, TV and now the big screen.
"Trainwreck" is one of the best times you can have at the movies this year, it gets a B and is rated R.