Google Celebrates 'Godzilla' Co-Creator Eiji Tsuburaya with Interactive Doodle
WASHINGTON, July 7, 2015 — (UPI) — Tuesday's Google homepage turned into an interactive movie-making game to celebrate beast-thriller legend Eiji Tsuburaya's 114th birthday.
The colorful doodle — created by Jennifer Hom and inspired by Tsuburaya's legendary filmmaking — morphs into a fast-paced race against time, prompting players to finish tasks quickly and accurately on a digital movie set. Tasks include setting up props, directing lighting and fitting an actor with a monster costume within seconds.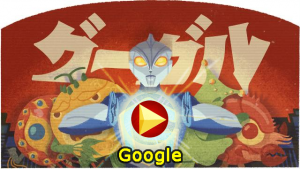 Eiji Tsuburaya was a Japanese director responsible for the success of many science fiction films such as "Godzilla" (1954), "Mothra" (1961) and "Mothra Vs. Godzilla" (1964).
His
production studio
still prolongs his own original creation, "Ultraman" using his traditional techniques.
Tsuburaya's creative tactics are still mirrored today in television and cinema, and can be most noted in Guillermo del Toro's "Pacific Rim." Google doodler Hom even connects his work as inspiration for "Evangelion" and "Power Rangers."
"I was resolved to make a doodle that could show how fun, fast, and totally chaotic the Tokusatsu filmmaking process can be," Hom said after returning from Tsuburaya's longstanding studio, Tsuburaya Productions, which she described as simultaneously "organized" and "messy." The studio still maintained the tradition of using handmade — albeit expertly crafted — props and sets for production.
Hom explained that each member of the crew had a specific job and a specific system with which they finished. "And there was a palpable respect for the tradition and legacy that they'e upholding through their craft," she said.
Play Hom's Google Doodle here.