Harry Shearer Signs "Simpsons" Contract! Season 27 will be "Excellent!"
July 8, 2015 (Gephardt Daily) – "We are extremely pleased to announce that all principal cast members of "The Simpsons" have now been signed. Woo Hoo!" That was the official post on "The Simpsons" Facebook page.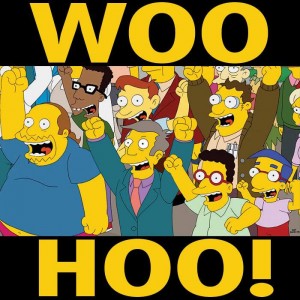 "Simpsons" fans are rejoicing as the news that Harry Shearer, and all the characters he voices, including Mr. Burns, Kent Brockman, Reverend Lovejoy, Smithers and Ned Flanders will return for season 27.
Shearer, who announced his departure from the series May 15, has now signed the same contract as did the other five primary voice actors including Dan Castellaneta, Yeardley Smith, Julie Kavner, Nancy Cartwright, and Hank Azaria; keeping the show's original cast fully intact, according to 'EW.'
These are enormous deals, which are estimated at more than $300,000 per episode, and can run for four seasons.
Back in May, Shearer, who had battled with the producers of the animated series previously over compensation, stated on Twitter his departure was not a salary issue, but rather the voice actor needed more flexibility in his schedule.
In order for "The Simpsons" producers to remain on schedule, they began production on season 27 sans Shearer. (They had a few pre-recorded episodes from season 26 and those include Shearer's voices.)
Producer Al Jean told 'EW' last month that if Shearer did not change his mind and return, his impressive roster of characters (which also include Seymour Skinner, Lenny, Dr. Hibbert, and Otto) would not be retired; new cast members would be hired to continue voicing those roles.
Shearer's new contract was finished in enough time and this delay will not effect the new season at all.
"The Simpsons" 27th season premiere airs on Sept. 27.