UTAH – September 23, 2015 (Gephardt Daily) — Excel Entertainment, in partnership with Fathom Events and nationally renowned radio celebrity Delilah, will present "Just Let Go," a night of forgiveness in select movie theaters across the country on September 28.
The one night premiere event will begin as the cast and filmmakers arrive on the red carpet at Ogden's Egyptian Theater Monday afternoon.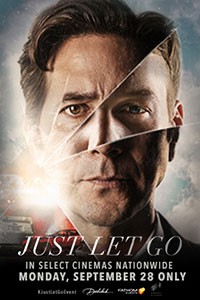 Audiences will experience the dramatic and stirring full-length feature "Just Let Go" paired with commentary, discussion, and a performance by renowned worship pastor and Christian recording artist Lincoln Brewster. The one-night event aims to create a national discussion about the nature and necessity of forgiveness within individuals, communities, and even nations.
A portion of the proceeds from the one-night "Fathom" event will be donated to the Human Journey, web platform for the "Tutu Global Forgiveness Challenge" which empowers people to forgive.
Starring Emmy nominee Henry Ian Cusick ("Lost", "Scandal", "The 100"), Oscar-nominated Brenda Vaccaro ("Once Is Not Enough") and Sam Sorbo ("Hercules: The Legendary Journeys"), "Just Let Go" is the inspirational true story of Chris Williams and his remarkable act of forgiveness after a drunk driver killed his wife and three children.
Synopsis: On a cold February night in 2007, a devoted father of four and a 17-year-old drunk driver both received life sentences. In one violent, devastating instant, each faced a drastically different and uncertain future. But as Chris Williams sat in his demolished vehicle, staring at the car that had just caused the death of his wife, his unborn baby, his nine-year-old daughter, and his 11-year-old son, he committed to do something extraordinary: he would forgive.
"Just Let Go" is a cinematic tale depicting how a person can forgive despite the retaliatory tendencies that surface within the dark corners of the human heart; and strives to show the world that hope, love and forgiveness can overcome all when you just let go. The feature is based on the autobiographical book by Chris Williams, Let It Go: A True Story of Tragedy and Forgiveness.
Fathom Events' in-theater events offer both live and pre-recorded programming to cinemas often headlined by well-known celebrities from radio, television and more. In addition, Fathom Events' live digital broadcast network ("DBN") is the largest cinema broadcast network in North America, bringing events to 820 locations in 177 Designated Market Areas® (including all of the top 50).
"We are excited about this new partnership with Fathom Events," said Arthur VanWagenen, Director of Film Distribution with Excel Entertainment Group. "They have a talent for reaching faith-based audiences in deeply emotional ways, and that is something important to us."
Tickets for "Just Let Go" are on sale now. For more information, please visit http://www.fathomevents.com/event/just-let-go.