LONDON, April 27, 2016 (Gephardt Daily) — Principal photography has begun on Millennium Films' "The Hitman's Bodyguard" starring Ryan Reynolds, Samuel L. Jackson, Gary Oldman, Elodie Yung and Salma Hayek.
The film is directed by Patrick Hughes ("Expendables 3") from a script by Tom O'Connor.  Lionsgate is distributing in the US and the UK.
"The Hitman's Bodyguard" is an action comedy about the world's top protection agent (Reynolds) and his new client: a notorious hitman who came in from the cold (Jackson).  They've been on opposite ends of a bullet for years.  They hate each other.  Now they're stuck together and have 24 hours to get from England to The Hague. The only thing standing in their way is everything a murderous Eastern European dictator (Oldman) can throw at them.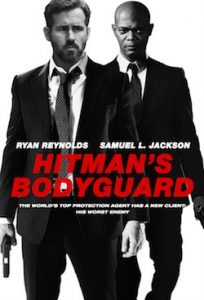 The film stars Ryan Reynolds ("Deadpool," "The Proposal") as protection agent Michael Bryce, Samuel L. Jackson ("The Legend of Tarzan," "Miss Peregrine's Home for Peculiar Children," "Django Unchained," "The Hateful Eight") as hitman Darius Kincaid, and Gary Oldman ("The Dark Knight Rises," "The Dark Knight") as Eastern European dictator Vladislav Dukhovich. The movie also features Salma Hayek ("Grown Ups, Tale of Tales, Frida") as Darius' wife Sonia Kincaid, and Elodie Yung ("Daredevil," "The Girl with the Dragon Tattoo") as Interpol agent Amelia Roussel.
Producers are Mark Gill, John Thompson, Matt O'Toole and Les Weldon. The executive producers are Avi Lerner, Trevor Short, Boaz Davidson, Christine Otal, Douglas Urbanski, Jason Bloom, Christa Campbell and Lati Grobman.
Patrick Hughes' creative team includes director of photography Jules O'Loughlin ("Black Sails"), production designer Russell De Rozario ("Kick-Ass" 1 and 2) and costume designer Stephanie Collie ("London Has Fallen").
"The Hitman's Bodyguard" is Reynolds' next film after the enormous success of "Deadpool."