August 8, 2015 (Gephardt Daily) — There maybe trouble brewing on ABC's new drama "Blood and Oil," which is being filmed in Salt Lake City, The Hollywood Reporter is reporting.
Multiple sources have indicated there are a few production issues including dealing with inexperienced crews in Utah to ABC Execs being too "hands-on" in their involvement with the show.  Insiders say the network is asking the storylines to be edgier.
Recently, "Blood and Oil" showrunner Cynthia Cidre was notably missing at the Television Critics Association's Summer Press Tour. Show producers were asked about Cidre's whereabouts: "Can you talk about Cynthia Cidre's role as co-exec producer/showrunner, and is there a reason she's not here today?"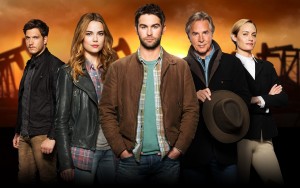 Producer Tony Krantz answered, "She had a personal thing that she could not be here today. She's an executive producer on the show. We love her. She's part of the family of what we're doing."
When asked why producers didn't address the showrunner change during the press tour, an ABC spokesperson said the question asked just addressed where Cidre was, not if the show was making a change.
But, The Hollywood Reporter (THR) has confirmed Jon Harmon Feldman is taking over the reins from Cynthia Cidre.
There is speculation that ABC announcing the management change well after the Television Critics Association's Summer Press Tour is a sign the network is attempting to hide internal problems.
But some of the cast and crew shuffling might be just normal growing pains as "Blood and Oil" is among several new shows that have made internal changes.
"Blood and Oil" is scheduled to air Sundays at 9 p.m. on ABC.