HOLLYWOOD, CALIFORNIA – September 21, 2015 (Gephardt Daily) — Jack Larson, best known for his iconic role as Jimmy Olsen in the 1950's TV series "The Adventures of Superman," died Sunday in his Brentwood home. He was 87 years old.
Larson was not only an actor but was known as a playwright, producer and screenwriter
Larson's film debut was in the 1948 war movie "Fighter Squadron."
In his younger years, Larson was determined to make it on the Broadway stage and reluctantly took the role as cub reporter and photographer Jimmy Olsen on "The Adventures of Superman," after his agent convinced him to take the role for exposure and promotion.
Larson was reticent to join the cast of the new TV series, mostly because of his fear of being typecast.
"The Adventures of Superman" became a huge hit with children all over the world. Along with Larson, the series starred George Reeves, Noel Neill and John Hamilton and ran from 1952 until 1958.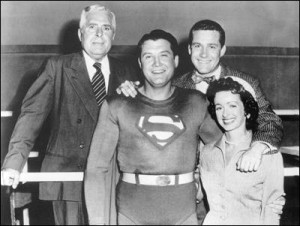 Larson's hesitation proved right. After "Superman" ended, the actor found it difficult to get new roles as he was highly identified with the part he'd played on TV.
There was talk about doing a 13-episode show called "Superman's Pal, Jimmy Olsen," but Larson said in a TV Guide interview, "But it was not agreeable with me to go on and do that,"
Encouraged by friends, he switched career paths, focusing on behind the scenes work and eventually forging a successful career as a librettist, playwright and producer.
Larson began writing plays, including "The Candied House," a mystery that was based on Hansel and Gretel and opened the L.A. County Museum of Art's Leo S.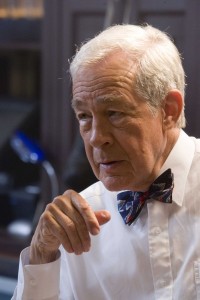 Larson finally came to terms with Jimmy Olsen, and was seen in 1991 in the syndicated series "Superboy." He played Old Jimmy Olsen in a 1996 episode of ABC's "Lois & Clark: The New Adventures of Superman" and was seen as a bartender in Bryan Singer's 2006 film "Superman Returns."
He also appeared in a 2010 episode of "NBC's Law & Order: Special Victims Unit."
According to the Hollywood Reporter, Larson was close with actor Montgomery Clift until his death in 1966. The two shared a historical Frank Lloyd Wright-designed home on a Brentwood hillside for years.
"It was obvious to anyone that since we lived together we were partners," Larson told the Los Angeles Times in 2011. "We always went places together. We never pretended. I always did what I felt like doing. I never did publicity when I was very popular as Jimmy. The question [about being gay] never came up."