Jennifer Lawrence, Natalie Dormer Stun in 'Mockingjay – Part 2' Posters
Los Angeles – July 7, 2015 — (UPI) — Jennifer Lawrence and Natalie Dormer stun in "The Hunger Games: Mockingjay – Part 2" character posters.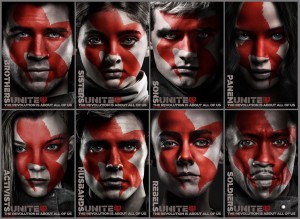 The 24-year-old American actress and 33-year-old English star appear as 'Katniss' and 'Cressida' in the images. The posters will be released at Comic-Con, and feature close-up portraits of the pair with red face paint in the shape of a 'mockingjay.'
Liam Hemsworth as 'Gale,' Josh Hutcherson as 'Peeta,' Jena Malone as 'Johanna,' Mahershala Ali as 'Boggs,' Willow Shields as 'Prim' and Sam Claflin as 'Finnick' are also featured.
The movie is expected to release new footage July 9.
"The Hunger Games: Mockingjay – Part 2" is based on the Suzanne Collins book 'Mockingjay,' and opens in theaters November 20.
The sequel is the final installment in "The Hunger Games" film series, and will see Katniss make her final stand against President Snow (Donald Sutherland).