BENTONVILLE, Ark., Nov. 19 (UPI) — While Josh Duggar remains in rehab following his infidelity scandal, adult film star Danica Dillon is suing the former reality star for sexual assault.
In court documents obtained by People magazine Wednesday, Dillon is seeking $500,000, claiming that Duggar "assaulted her to the point of causing her physical and emotional injuries."
Dillon, real name Ashley Stamm-Northup, alleges that Duggar approached her at a Philadelphia strip club back in March where the 27-year-old paid her for lap dances and later for sex. Dillon alleges that during this time, Duggar "manhandled" her to where she "felt as if she were being raped."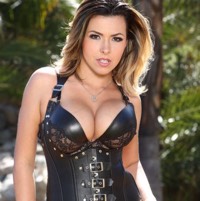 The pair met up again a month later and Dillon alleges that Duggar treated her roughly again. In September, Dillon opened up about the incident to Entertainment Tonight, where she acknowledged that she "never told him no" and consented to the sex.
"We do not have a statement at this time," a rep for the Duggar family told Us Weekly.
Back in August, Duggar admitted to cheating on his wife Anna Duggar after it was discovered that he had an account on extramarital affair site Ashley Madison. The cheating scandal came just three months after he confessed to molesting five girls including his sisters Jill and Jessa Duggar as a teenager.
In October, Josh wrapped up his second month of rehab while Anna was reportedly doing well and staying strong while caring for the couple's four children. Anna and Josh Duggar have been married since 2008.