LOS ANGELES, Oct. 23 (UPI) — Back in August singer Kelly Clarkson, 33, announced she and husband Brandon Blackstock, 38, were expecting their second child.
The "Stronger" singer made the unexpected announcement on stage during an L.A. concert in Piece by Piece tour.
"I was not planning on announcing this, but … I'm totally pregnant," she said at the time, while crying onstage. "That was not planned. I just didn't want you to think I was crazy. Honestly, I'm just hormonal today. Nothing's wrong. I'm OK. I haven't vomited yet!"
But now the American Idol alum took to Instagram to reveal the sex of her baby-on-the-way.
Clarkson posted an adorable photo of her first child River Rose, 16 months, saying: "In other news, River's gonna have a little baby brother 🙂 #itsaboy We're so excited!"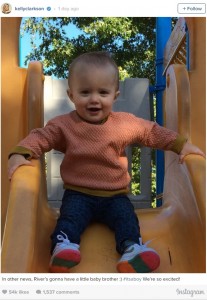 Back in February, Clarkson told People magazine how she wanted to expand her family.
"I want another one … But I'm just a little frightened because [River is] so perfect," she said. "I feel like something horrible's gonna come out of me. Because she's so great — like, the yin to her yang … But I won't put that out there. I'm gonna project happiness."
It seems that Clarkson certainly put her fears aside. The singer is still making waves in music, collaborating with X Factor winner Ben Haenow for his new single "Second Hand Heart." The music video for the song dropped earlier this week.