September 8, 2015 (Gephardt Daily) — Variety is reporting actress and comedienne Judy Carne, best known for being the "Sock it to me!" girl on "Rowan & Martin's Laugh-In" in the '60s, died on Sept. 3, according to the Telegraph. She was 76.
Carne rose to overnight fame with "flower power" stardom on the hip and highly irreverent TV cult variety show "Rowan & Martin's Laugh-In" in 1967, where she introduced the phrase "Sock it to me!" to the American vernacular. Each week she would be doused with water every time she uttered the phrase "Sock it to me," accidentally or not.
"Laugh-In" became the most popular TV show in America.
As the plucky English lass in the cast, she always seemed to be on the receiving end of a slapstick prank, and audiences loved her for it. The show also made instant household names out of fellow Laugh-In comrades Arte Johnson, Ruth Buzzi, Henry Gibson, Jo Anne Worley, Lily Tomlin, and most notably, Goldie Hawn, who managed to out-perk even Judy and grab the lion's share of attention.
Judy proved herself a game sport for a while, but made the decision to leave the series after only two seasons, She grew tired of the grind, the typecasting and the disappointment of having her singing and dancing skills undermined.
In the 60's, Carne was also known for her fiery relationship with Burt Reynolds. The couple were married in 1963 and divorced in 1965.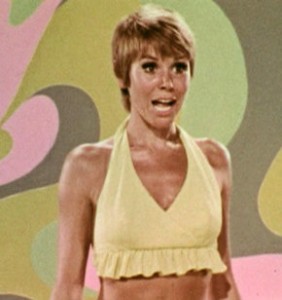 In her 1985 autobiography "Laughing on the Outside, Crying on the Inside: The Bittersweet Saga of the Sock-It-To-Me Girl," Carne detailed their relationship, confessing to partaking in several affairs and struggling with drug addiction.
Her battle with drugs intensified after leaving "Laugh-In" when it became public after the actress was charged with forging prescriptions and heroin possession in the late '70s. Ultimately she was acquitted of the heroin charge.
Carne was born near Northampton, Northamptonshire, England, and trained at the Bush Davies Theatrical School for Girls at East Grinstead as a child. Her first television appearance came in 1956, in "The First Day of Spring."
Her other TV credits include a regular role in sitcom "Fair Exchange," "The Baileys of Balboa," a starring role in sitcom "Love on a Rooftop," "Love American Style" and appearances in "The Man From U.N.C.L.E."