LOS ANGELES, Aug. 1 (UPI) — Lea Michele reveals a new tattoo dedicated to Cory Monteith in the September issue of Women's Health U.K. magazine.
The 29-year-old actress bared the never-before-seen ink while posing nude for the publication's annual Naked edition. Michele paid tribute to Monteith, her late boyfriend and "Glee" co-star, by getting his "Glee" character's name, Finn, tattooed.
"[Being naked] isn't really an issue for me," she said in the interview. "Right now, I feel physically in my best shape and emotionally in my best place."
"Initially I didn't think that I would get into [exercise]," the star, who takes a spin class every other day, admitted. "For me, working out has to be good for my mind too, and when I leave, the endorphins are buzzing, I'm glowing and I feel like I can take on the world."
Michele was dating Monteith when he died of an accidental drug overdose at age 31 in 2013. The actor was honored in episode three of "Glee" Season 5 and Michele's character, Rachel Berry, got a "Finn" tattoo in a following episode.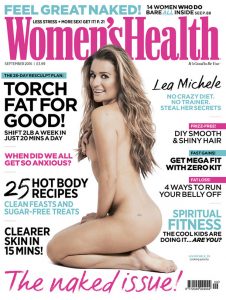 Michele has other real-life tattoos dedicated to Monteith, including the number "5" that refers to Finn's football jersey number. The actress recently paid tribute to Monteith on Instagram to mark the third anniversary of his death.
"We may not have gotten to share a lifetime together.. But the memories.. they're the best of my life.. Love you Cory," she wrote in July.
Michele presently stars on Fox's "Scream Queens," which will return for a second season Sept. 20. She is also slated for the new Hulu series "Dimension 404" with Robert Buckley.