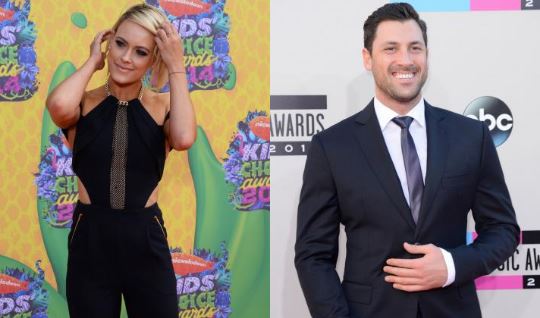 NEW YORK, Jan. 4 (UPI) — "Dancing with the Stars" pros Maksim Chmerkovskiy and Peta Murgatroyd welcomed their first child together Wednesday, a baby boy named Shai.
Chmerkovskiy revealed the baby's time of birth and full name on Twitter writing, "Shai Aleksander Chmerkovskiy 01/04/17 5:34am."
The engaged couple had been teasing fans of Shai's incoming birth, posting on Instagram Monday a photo of Murgatroyd putting on makeup while sitting on a hospital bed.
Additionally, Chmerkovskiy brother Val canceled a "Dancing with the Stars" tour appearance Tuesday stating that he was going to be an uncle "very soon."
"This is, without a doubt, the best thing that has ever happened to us!" the pair said in a statement to E! News.
Chmerkovskiy, 36, and Murgatroyd, 30, announced they were expecting their first child together in May after they got engaged in December of 2015. A wedding is planned to take place in New York in July.
"We deliberately have it in July so it doesn't conflict with any of the seasons, so we can bring our past partners and our troupe of dancers and stuff like that," Murgatroyd had explained to E! News.