Michael Douglas' Mother Diana Douglas Dies at 92
WOODLAND HILLS, CALIFORNIA – July 4, 2015 (Gephardt Daily) – Actress Diana Douglas Webster, the first wife of Kirk Douglas and mother of Michael Douglas, died Friday night at age 92.
Donald Webster, her third husband of 15 years, confirmed that she died in hospital in Woodland Hills, California, after battling cancer.
According to CNN, Webster said, "She was a person much beloved by everyone." He added, "One of her greatest qualities was that she was always thinking of the other person."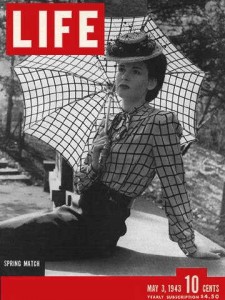 After appearing on the cover of 'Life' magazine in May 1943,  she met Kirk Douglas who was serving in the U.S. Navy. They married later that year.
A year later, she gave birth to their first son, Michael. After their second son, Joel, was born in 1947, the couple began to realize they "were not right for each other" and divorced in 1951.
She married Broadway producer Bill Darrid in 1956; their marriage ended with his death in 1992.
Diana Douglas appeared in may popular TV shows in the 70's and 80's such as; "Naked City," "Flipper," "Kung Fu," "Barnaby Jones," "Cagney & Lacey," "Dynasty," Knots Landing," "The West Wing" and "ER."
She also had a recurring role on the soap opera "Days of Our Lives" as Martha Evans from 1977 to 1982, and appeared in an episode of "The Streets of San Francisco," the detective series that launched her son, Michael's, career.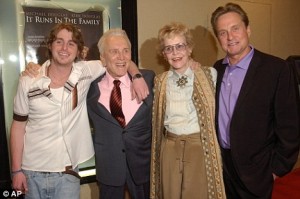 Her last film, "It Runs in the Family" in 2003, was a family reunion of sorts. She played matriarch Evelyn Gromberg opposite Kirk Douglas as her husband. Michael Douglas played her son and her grandson Cameron Douglas played her grandson.
In 2002 she married her 3rd husband Donald Webster, and moved to California where the couple bonded over a shared passion for writing and encouraged each other's creative pursuits.
According to CNN, Webster said "We just clicked and had a harmonious life together," Webster said.
"She had many talents. She had an amazing circle of friends who really loved and cared about her, the kindest people you would meet," he said. "She was a great lady, truly an exceptional person."
In addition to Webster, she is survived by her sons Michael and Joel and three grandchildren, Cameron, Dylan and Carys.