New on Blu-ray and DVD: Tony Reviews "American Sniper" and "The Woman in Gold"
"American Sniper"
Starring: Bradley Cooper and Sienna Miller
Directed by Clint Eastwood
Warner Bros. Pictures / Rated R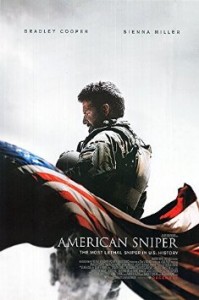 "American Sniper" is director Clint Eastwood's harrowing take on the true story of one of the Navy SEAL's most effective snipers, Chris Kyle. The film follows the personal toll his job took on his life. Kyle is credited with eliminating nearly 200 enemy soldiers.
Coming home after four tours of duty, Kyle finds he can't leave behind the grim images of war and those memories begin to undo him and tear apart his family.
One of the best war films in recent history, "American Sniper" deals with the personal costs of doing one's duty and the high price individually paid by our American soldiers.
Bradley Cooper puts in his best performance to date as Kyle; the actor proves he is more than a pretty face as he expertly takes us through the sniper's journey. Likewise Sienna Miller is the perfect counterbalance to Cooper. It is her performance and Kyle's wife, Taya, that gives the film its heart and soul.
"American Sniper" is not to be missed. It gets an A and is rated R.
"Woman in Gold"
Starring: Helen Mirren and Ryan Reynolds
Directed by Simon Curtis
The Weinstein Company / Rated PG-13
"Woman in Gold" is the remarkable true story of one woman's journey to reclaim her heritage and seek justice for what happened to her family.
Sixty years after she fled Vienna during World War II, Maria Altmann, played by Dame Helen Mirren, begins her journey to retrieve family possessions seized by the Nazis, among them Klimt's famous painting "Portrait of Adele Bloch-Bauer I."
Together with her inexperienced but plucky young lawyer played by Ryan Reynolds, she embarks upon a major battle which takes them all the way to the heart of the Austrian establishment and the U.S. Supreme Court, and forces her to confront difficult truths about the past along the way.
This film flew under the radar because it opened at the same time as "Furious 7" hit theaters, plus there was very little promotion.
"Woman in Gold" is an absorbing drama with a remarkable performance by Mirren. The film deserves your attention now that it's on Blu-ray and DVD. Check it out.
It gets an A and is rated PG-13