HOLLYWOOD – October 19, 2015 (Gephardt Daily) — Fox TV just unveiled its newest poster for the reboot of "The X-Files Revival" starring David Duchovny and Gillian Anderson.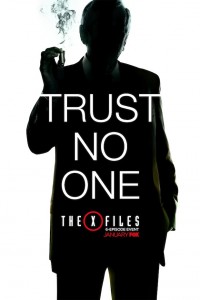 Along with Anderson and Duchovny, original cast members Mitch Pileggi and William B. Davis are returning. Plus the show's favorite conspiracy followers "The Lone Gunmen" played by Tom Braidwood, Dean Haglund, and Bruce Harwood, will be showing up in some episodes. 
Fox's"X-Files" reboot premieres with a special two-part episode beginning Sunday, January 24 and concludes in the series normal time slot Monday, January, 25 (Check local listings for air times).