Omar Sharif Dies at the Age of 83
CAIRO, EGYPT – July 10, 2015 (Gephardt Daily) – Omar Sharif has died at the age of 83. The actor, who is best known for his roles in "Doctor Zhivago (1965) ," "Lawrence of Arabia (1962)" and "Funny Girl (1968)," suffered a heart attack in Cairo on Friday, according to his agent, Steve Kenis.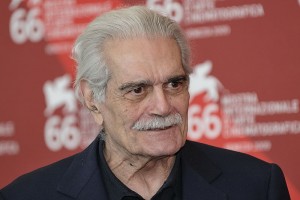 The actor had been in failing health for sometime, last May Sharif's son told the media his father had Alzheimer's Disease.
Sharif was Oscar nominated for his role in "Lawrence of Arabia" (his first English-speaking role) but did not win. He did receive a Golden Globe for his performance in the David Lean film.
Sharif was soon getting many offers for films, usually playing the 'heavy.' He starred alongside Gregory Peck and Anthony Quinn in "Behold a Pale Horse," and in "Genghis Khan," (1965) playing the title role. In the same year, he reunited with Lean to star in Doctor Zhivago, a role that brought him another Golden Globe.
Controversy surrounded the actor when he was cast opposite Barbra Streisand as 'Nick Arnstein' in "Funny Girl," the Egyptian government did not want him starring with Streisand due to her support of the State of Israel.  Streisand and Sharif became very good friends during the filming and reprised the role in 1975's "Funny Lady."