March 13 (UPI) — Everything Everywhere All at Once and All Quiet On the Western Front were the big winners at the 95th Academy Awards presentation at the Samuel Goldwyn Theater in Beverly Hills, Calif., on Sunday.
"For all of the little boys and girls who look like me watching tonight, this is a beacon of hope and possibilities. This is proof that dreams do come true," Michelle Yeoh said after winning the Best Actress prize for Everything, which was also the winner of the top prize of Best Picture. "And, ladies, don't ever let anyone tell you you are past your prime."
Yeoh made history as the first Asian woman to win the Best Actress Oscar.
Her co-stars Ke Huy Quan and Jamie Lee Curtis won for Best Supporting Actor and Actress, respectively. Their movie also won for Best Director, Best Original Screenplay and Best Editing.
"Thank you! My mom is 84 years old and she's at home watching. Mom, I just won an Oscar!" Quan tearfully said as he collected his prize.
"My journey started on a boat. I spent a year in a refugee camp and somehow I ended up here on Hollywood's biggest stage. They say stories like this only happen in the movies. I cannot believe this is happening to me. This, this is the American dream," he continued.
Quan created another memorable moment when he hugged and kissed Harrison Ford, who announced the Best Picture honor while Steven Spielberg looked on and smiled. Quan and Ford co-starred in Spielberg's 1984 movie Indiana Jones and the Temple of Doom.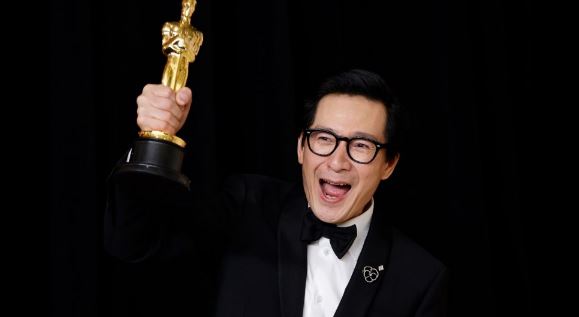 Curtis took the stage and admonished the crowd for cheering because it was eating into her 45 seconds to deliver a speech.
"I know it looks like I am standing up here by myself, but I am hundreds of people," she said, honoring the film's cast, crew and directors for their hard work and craftsmanship. "We just won an Oscar."
She then expressed her gratitude to those who represent her, those who watched her films over the years and her husband, Christopher Guest, and their two daughters.
Tearing up, she mentioned that her late parents, Tony Curtis and Janet Leigh, were both nominated for Oscars during their own careers.
Looking up, she said one last time, "I Just won an Oscar," and blew a kiss.
All Quiet On the Western Front scored trophies for Best Cinematography, Best Production Design, Best Set Design, Best Score and Best International Film.
Toward the end of the night, Brendan Fraser won the Best Actor award for The Whale.
He stopped to hug his sons and shake hands with his fellow nominee Colin Farrell on his way to the stage.
Fraser was emotional as he accepted the statuette and declared, "So, this is what the multiverse looks like!
"My goodness! I thank the Academy for this honor and our studio A24 for making such a bold film," he said. "I am grateful to Darren Aronofsky for throwing me a creative lifeline and hauling me aboard the good ship, The Whale."