LOS ANGELES, Nov. 13 (UPI) — Pauley Perrette says she's lucky to be alive after being attacked Thursday evening.
The 46-year-old actress recounted the assault early Friday morning on Twitter, telling fans she was attacked by a homeless man who punched and threatened to kill her.
"On my street, I was jumped by a VERY psychotic homeless man," she wrote. "He grabbed me so forcefully, pinned my arm, punched me in the nose, forehead repeatedly telling me he was going to kill me … I was alone, terrified and trapped."
Perrette said her assailant eventually let her go and she "went into shock" and "collapsed on the sidewalk" before reporting the assault. She drew a sketch of her attacker, whom authorities later apprehended and booked on suspicion of felony battery.
Police corroborated Perrette's account and said her alleged assailant, David Merck, is a local transient with a criminal record. Sgt. Bob Ward told the Los Angeles Times, "He's self-medicating. Probably didn't even know who she is … He's not going anywhere."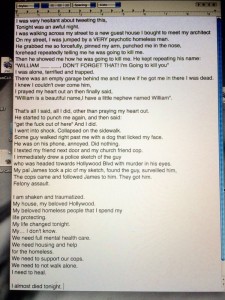 Perrette is best known for playing Abby Sciuto on CBS drama NCIS, which airs Tuesdays at 8 p.m. Eastern. She champions several causes, including animal rescue, civil rights and LGBT rights, and works with the homeless in different areas around the U.S.