LOS ANGELES, Calif., Dec. 18, 2016 (Gephardt Daily) — Actress Zsa Zsa Gabor has died at the age of 99 at her home in Bel Air, according her publicist.
Publicist Ed Lozzi told Variety Gabor died Sunday in her Bel Air, California mansion. She had been on life support for the last five years, and according to TMZ, which first reported the news she had died of a heart attack.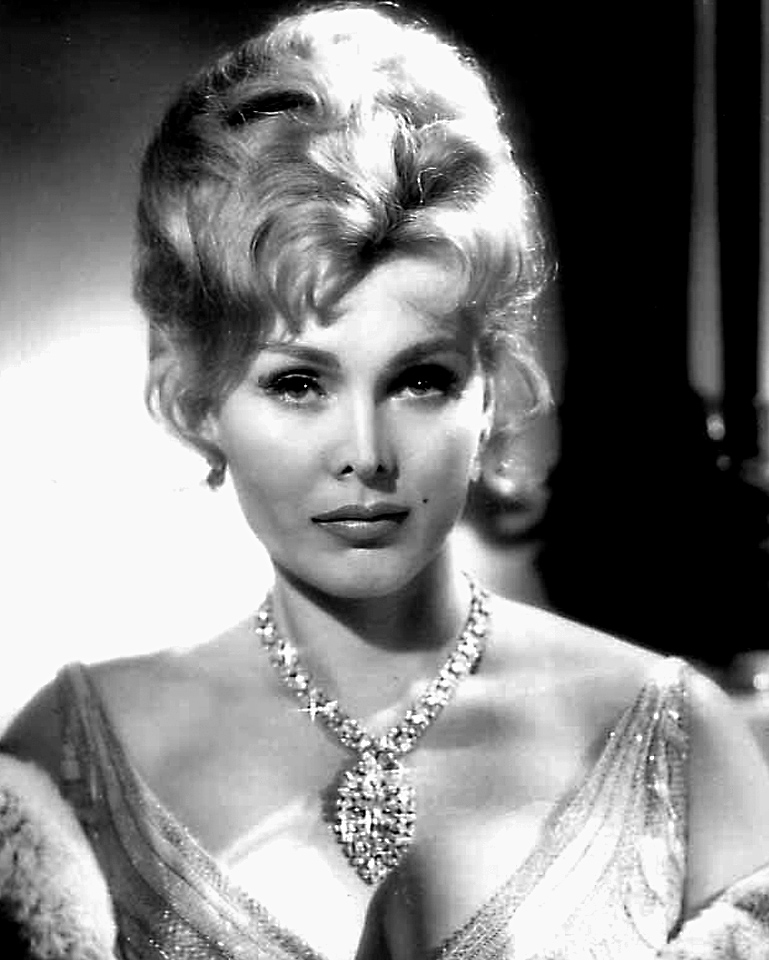 Born in Hungary in 1917, Gabor emigrated to the United States during World War Two.
She appeared in more than 70 films, but was more famous for her celebrity lifestyle than her acting chops.
Gabor began her stage career in Vienna and was crowned Miss Hungary in 1936. She emigrated to the United States in 1941. Her first film role was a supporting role in "Lovely to Look At." She later acted in "We're Not Married!" and played one of her few leading roles in "Moulin Rouge" (1952), directed by John Huston.
She was married nine times – taking her first husband at the age of 20 and wedding for the last time when she was nearly 70. Her nine husbands included hotel magnate Conrad Hilton and actor George Sanders. She once stated, "Men have always liked me and I have always liked men. But I like a mannish man, a man who knows how to talk to and treat a woman – not just a man with muscles."
Gabor's only child, a daughter named Constance Francesca Hilton, was born on March 10, 1947. She was the only Gabor sister to have had a child. Francesca Hilton died on Jan. 5, 2015, at the age of 67 from a massive stroke.
Author Gerold Frank, who helped Gabor write her autobiography in 1960, describes his impressions of her while the book was being written: "Zsa Zsa is unique. She's a woman from the court of Louis XV who has somehow managed to live in the 20th century, undamaged by the PTA … She says she wants to be all the Pompadours and Du Barrys of history rolled into one, but she also says, 'I always goof. I pay all my own bills. … I want to choose the man. I do not permit men to choose me.'"
In his autobiography, television host Merv Griffin, who often squired Zsa Zsa's younger sister Eva socially, described the Gabors in their heyday as glamour personified: "All these years later, it's hard to describe the phenomenon of the three glamorous Gabor girls and their ubiquitous mother. They burst onto the society pages and into the gossip columns so suddenly, and with such force, it was as if they'd been dropped out of the sky."
In 1970, Gabor purchased a 8,878-square-foot Hollywood Regency-style home in Bel Air, which once belonged to Elvis Presley. It was originally built by Howard Hughes and featured a unique-looking French style roof. In June 2011, it was announced that Gabor placed the house for sale as it had "gotten too big to manage" for her.
On Nov. 28, 2002, Gabor was a front seat passenger in an automobile crash in Sunset Boulevard, Los Angeles, from which she remained partially paralyzed and reliant on a wheelchair for mobility. She survived strokes in 2005 and 2007 and underwent surgeries. In 2010, she fractured her hip and underwent a successful hip replacement.
In Aug. 2010, Gabor was admitted to Ronald Reagan UCLA Medical Center in serious condition and received last rites from a Catholic priest. In 2011, her right leg was amputated above the knee to save her life from an infection. She was hospitalized again in 2011 for numerous emergencies.
On Feb. 8, 2016, two days after her 99th birthday, Gabor was rushed to hospital after suffering from breathing difficulties. She was diagnosed with a feeding tube-related lung infection and was scheduled to undergo surgery to have her feeding tube removed.
On 11 April 2016, Gabor expressed her wishes to move back to Hungary during 2017 to live out the rest of her life there. Her husband stated that he was determined to make her wish come true and that he intended to arrange for "a big party in the summer" to celebrate the actress' 100th birthday, after which she would return to Budapest.