"Real Housewives of New Jersey" star Amber Marchese: Breast Cancer Returned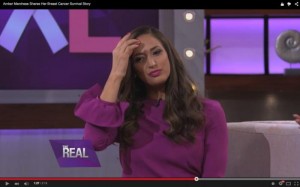 FRANKLIN LAKES, N.J., May 6 (UPI) – After being cancer-free for the past five years, 37-year-old Amber Marchese told People Magazine her surgeon found the diseased cells again on April 23 in the same breast as before.
[one_fourth]
[/one_fourth][three_fourth_last]
"I was just sick to my stomach," she said in an exclusive interview with the magazine. "I can't even begin to describe the feeling you get when someone says you have cancer."
"Then to get it again after you thought you fought it and thought it was behind you," she continued, "I was thinking, 'This is definitely it. I'm going to die.'"
The star was first diagnosed with the life-threatening disease in 2009. She reportedly had a bilateral mastectomy, although cancerous tumors were found in only one breast — just to be safe. Unfortunately, the newly discovered growth is "right in the middle of where the other two were. It's the same type of tumor," Marchese says.
Why didn't the mastectomy work? Marchese says it's very difficult to remove 100 percent of breast tissue in such a procedure.
"The percentage of it recurring is very small, less than 5 percent," she said. "I just fell into that category. I wasn't so lucky."
Marchese will undergo an additional surgery to remove the leftover breast tissue that is causing the tumor. Additionally, she will be put on radiation therapy five days a week for the next five weeks.
She said she will get an MRI of her brain and chest to make sure the cancer hasn't spread.
Days after finding the tumor, before making a formal statement about her diagnosis, the devout star shared her thoughts via Facebook: "For now, I will leave you with this. This uncertain time is not ruffling my feathers. This is of worldly worries and concerns. When, naturally, I go to worry and fear, I go back into prayer. It is my armor and my sword. My faith is my joy, my happiness, my peace."