Robert Zemeckis and Joseph Gordon-Levitt Take Audiences on an Incredible Journey
CULVER CITY, Calif., June 25, 2015  (Gephardt Daily) – Audiences at IMAX® 3D and other select theaters will have the chance to be the first to experience "The Walk," the new motion picture event from Academy Award® winner Robert Zemeckis, when it is released exclusively in those theaters on Wednesday, September 30.
The film, which has also been chosen as the opening night selection of the New York Film Festival, will then enter wide release on October 9.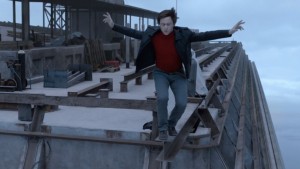 Twelve people have walked on the moon, but only one man – Philippe Petit, played by Joseph Gordon-Levitt, has ever, or will ever, walk in the immense void between the World Trade Center towers.
Guided by his real-life mentor and aided by an unlikely band of international recruits, Petit and his gang overcome long odds, betrayals, dissension and countless close calls to conceive and execute their mad plan.
In "The Walk," Academy Award® winner Robert Zemeckis, the master director of such marvels as "Forrest Gump," "Cast Away," "Polar Express" and "Flight," again uses cutting edge technology in the service of an emotional, character-driven story.  With innovative photorealistic techniques and IMAX® 3D wizardry, "The Walk" is genuine big-screen cinema, a chance for moviegoers to viscerally experience the feeling of reaching the clouds.
It is also one of the rare live-action films that is a PG-rated, all-audience entertainment for moviegoers 8 to 80 – and a true story to boot.
It is unlike anything audiences have seen before, a love letter to Paris and New York City in the 1970s, but most of all, to the Towers of the World Trade Center.
Commenting on the announcement, Greg Foster, Senior Executive Vice President of IMAX Corp. and CEO of IMAX Entertainment, said, "We're excited to be part of Sony's exclusive release for"The Walk," which was designed for and makes brilliant use of IMAX 3D.
No one understands IMAX better than our longtime partner Bob Zemeckis – he is an artistic genius who uses all of his expertise to give audiences an edge-of-your-seat thrill that will make moviegoers feel like they are out on the tightrope themselves. We're excited that our audiences will have the chance to see it first."
Directed by Robert Zemeckis, the screenplay is by Robert Zemeckis & Christopher Browne, based on the book "To Reach the Clouds" by Philippe Petit, and produced by Steve Starkey, Robert Zemeckis, and Jack Rapke.