HOLLYWOOD May 8, 2016 (Gephardt Daily) — Despite the loss of key cast members Stana Katic and Tamala Jones, ABC TV is expecting most of the cast of "Castle" to return for a ninth season.
According to Deadline Hollywood, Seamus Dever will continue as a regular on the show, joining star Nathan Fillion, who plays the title character.
Dever plays Detective Kevin Ryan, formerly a narcotics division cop, who works alongside Javier Esposito, played by Jon Huertas.
Dever and Huertas had been expected to return for next season, with Huertas' deal on track to close shortly.
Female lead Stana Katic and fellow original cast member Tamala Jones were not asked to come back for Season 9.
ABC was supposed to make a renewal decision by end of Friday, May 6, but that was postponed as actors deals are still being hammered out.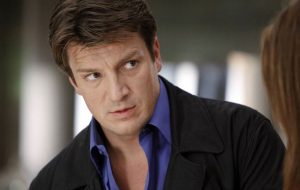 "Castle" debuted on ABC TV and focuses on Richard "Rick" Castle, a millionaire playboy and crime novelist, who teams up with New York police detective Kate Beckett to solve the case.
He finds inspiration in Detective Beckett and starts shadowing her for his next book.