"Sharknado 3: Oh Hell No!" Releases First Teaser
LOS ANGELES, June 5, 2015  (UPI) — "Sharknado 3: Oh Hell No!" released a first teaser trailer Thursday.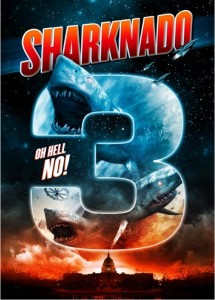 The preview sees Tara Reid and Ian Ziering return as April and Fin Shepard to battle man-eating sharks in Washington, D.C.
Mark Cuban will portray the President of the United States, with Ann Coulter as the vice president. David Hasselhoff, Cassie Scerbo, Bo Derek and Ryan Newman also star, with appearances by Jerry Springer, Frankie Muniz and Kathy Lee Gifford.
"Sharknado" (2013) and "Sharknado 2: The Second One" (2014) helmer Anthony C. Ferrante returned to direct the sequel, which will premiere July 22 on the SyFy channel. The first movie took place in Los Angeles, while the second was set in New York.
"Sharknado" and "Sharknado 2" debuted to audiences of 1.37 and 3.9 million, respectively. The latter is the most-watched television movie to air on SyFy, and featured such stars as Reid, Ziering, Vivica A. Fox, Kari Wuhrer and Judah Friedlander.