'Sharknado 4' Confirmed as Third Film Debuts
WASHINGTON, July 23 (UPI) — Syfy is urging viewers to decide whether "Sharknado 3's" April Shepard live or dies in the next installment of the cult franchise.
Wednesday's debut of the third film ended with an abrupt cut to black and the caption "You decide if #AprilLives or #AprilDies," confirming that a fourth flick is in the works.
The original ending to "Sharknado 3" was a classic, family-oriented one consisting of "this wonderful family moment where they all hold hands, look up at the sky, Fin salutes his dad, and then we fade out," associate producer Chris Regina told Hollywood Reporter. "I said, 'that's great, but it sounds like the ending of a trilogy…it's a satisfying ending that doesn't go on…' We needed to do something that was going to keep the audience in jeopardy and want them to come back for another "Sharknado," he said.
"That led to the idea that I came up with in having the audience vote. Sharknado, more than anything on television, is a social interaction with the viewers, so we wanted to make it interactive," Regina continued.
BBC reports the first 'Sharknado' films generated more than a billion tweets combined. Associate Producer Regina hopes that the call to action at the end of the third film will "break the internet this time."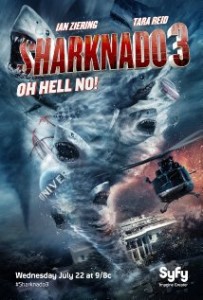 Director Anthony C. Ferrante says that the Syfy network has done "a good job" maintaining audience interest in the franchise. "In a way, Chris and I both get our endings," he told the outlet. "We still get the big family ending, you get satisfied with David Hasselhoff on the moon, you get some closure…and then we pull the rug out from under you."
"I know Syfy wants to continue making these movies, and to keep doing that you've got to keep finding new and different ways to present the film," Ferrante said. "I think the social media ending accomplishes that."
"Will the audience like it? Well, they love tweeting about the movie, so why wouldn't they want to tweet whether April lives or dies?"