LOS ANGELES, Nov. 6 (UPI) — Sinbad is recovering after having major back surgery this week.
The 58-year-old actor and comedian updated fans on social media after undergoing a 10-hour spinal fusion surgery Tuesday.
"Surgery was good last night," he captioned a photo from his hospital bed Wednesday. "Double fusion for the back – 10hrs."
"Thank everyone for their prayers," he followed up Thursday. "I shall be back up soon. This surgery was no joke."
Spinal fusion surgery essentially "welds" two or more vertebrae together to alleviate back pain. Sinbad didn't reveal the cause for his surgery, but the actor should be feeling better in the next few days.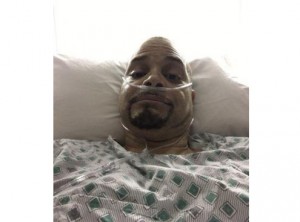 Sinbad is known for such films as Jingle All the Way, First Kid and Good Burger, and has starred in numerous HBO comedy specials. He and wife Meredith Fuller remarried in 2002, and share daughter Paige and son Royce.