ROCKVILLE, MARYLAND – September 21, 2015 (Gephardt Daily) — Goodwill Industries International is teaming up with Sony Pictures Entertainment for the release of the animated film, "Hotel Transylvania 2," to encourage people across the United States and Canada to do their Halloween shopping at Goodwill's more than 3,000 stores or online at shopgoodwill.com®.
Goodwill and Sony Pictures unite with the message "Be Your Own Monster," urging consumers to make Goodwill their Halloween Headquarters for creating unique, affordable costumes — even costumes based on one of the movie's characters, such as Dracula, Mavis or Frank.
When costume seekers shop at Goodwill, they help people in their communities get job training, earn jobs and access other community-based services.
About "Hotel Transylvania 2":
In Genndy Tartakovsky's "Hotel Transylvania 2" from Sony Pictures Animation, Drac's pack is back for an all-new monster comedy adventure!  Everything seems to be changing for the better at Hotel Transylvania…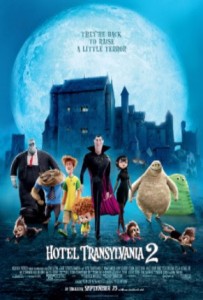 Dracula's rigid monster-only hotel policy has finally relaxed, opening up its doors to human guests. But behind closed coffins, Drac is worried that his adorable half-human, half-vampire grandson, Dennis, isn't showing signs of being a vampire. So while Mavis is busy visiting her human in-laws with Johnny – and in for a major cultural shock of her own – "Vampa" Drac enlists his friends Frank, Murray, Wayne and Griffin to put Dennis through a "monster-in-training" boot camp.
But little do they know that Drac's grumpy and very old, old, old school dad Vlad is about to pay a family visit to the hotel.  And when Vlad finds out that his great-grandson is not a pure blood – and humans are now welcome at Hotel Transylvania – things are going to get batty!
The film is directed by Genndy Tartakovsky, written by Robert Smigel & Adam Sandler, and produced by Michelle Murdocca.
Sony Pictures Animation's "Hotel Transylvania 2" will be released in theaters nationwide on September 25, 2015.
To find a Goodwill location near you, use the online locator at Goodwill.org, use the Goodwill Locator app at goodwill.org/apps, or call (800) GOODWILL or for more information.