AUSTRALIA, July 7, 2016 (Gephardt Daily) — One of the best loved characters in the Star Trek universe has been revealed to be gay, according to "The Herald Sun."
In the new film "Star Trek Beyond," Hikaru Sulu, helmsman of the USS Enterprise, played by John Cho, is shown as the loving father of a daughter with a same-sex partner. And in typical trailblazing Trek fashion, it's just not a big deal.
In a recent interview, Cho said the decision by writer Simon Pegg and director Justin Lin to reveal Sulu is gay was a tip of the hat to George Takei, who played the character in the original 1960s series.
"I liked the approach, which was not to make a big thing out it, which is where I hope we are going as a species, to not politicize one's personal orientations," said Cho.
This reveal isn't anything new to "Star Trek," the series was constantly treading on social and political conventions. In in 1968 the episode "Bread and Circuses" featured the first interracial kiss (between William Shatner and Nichelle Nichols) ever screened on US TV.
"The Herald Sun" reports, George Takei, who has gone on to become a prominent activist for LGBTIQ rights, dared not reveal his sexuality at the time for fear of ruining his career in a much more closed-minded time.
"If I wanted to work as an actor I had to keep it a secret," Takei told News Corp last year. "Back then I couldn't marry a white person, that was against the law here, miscegenation. But now I am married to a white dude so we have changed."
The cast has been reeling from the death of Anton Yelchin, who played Chekov in the reboot of the "Star Trek" franchise.
Yelchin was tragically killed last month when he was accidentally crushed by his own car.
Check out the story here: Anton Yelchin Dead at 27

Director Justin Lin has indicated "Star Trek Beyond" will be a tribute to the talented young actor.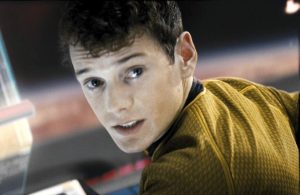 "It's bittersweet with the passing of Anton," said Karl Urban, who plays Dr. McCoy, "It's devastating losing someone in your family. This feels like it should be a time for celebration not just of the film but of him, his extraordinary talent and the beautiful man he was. I'm having a difficult time coming to grips with talking about him in the past tense. It's very raw and very painful."