Star Trek's "Uhura" Nichelle Nichols Has a Stroke
Los Angeles, Ca June 4th, 2015 (Gephardt Daily) – Last night 83 year old actress Nichelle Nichols experienced a "mild stroke." The actress, best known for her role as "Uhura" in the original Star Trek series and subsequent films in the Star Trek franchise.
The official statement from a family spokesperson said "Last night while at her home in LA, Nichelle Nichols suffered from a mild stroke. She is currently undergoing testing to determine how severe the stroke was. Please keep her in your thoughts."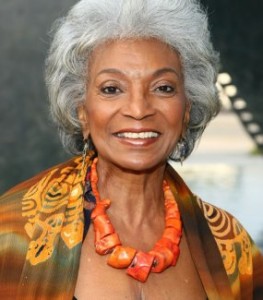 Born Grace Nichols on December 28, 1932 in Robbins, Illinois, she began her show business career at age 16 as a singer with Duke Ellington in a ballet she created for one of his compositions and later sang with his band. After switching to acting, she was twice nominated for the Sarah Siddons Award for best actress in "The Blacks" and "Kicks and Company".
Her film debut found her dancing with Sammy Davis Jr. inPorgy and Bess (1959). A guest appearance on The Lieutenant (1963) led to an offer from Gene Roddenberry to join the cast of Star Trek (1966). It was "Star Trek" where Nichols found herself in the midst of controversy. She and fellow Star Trek actor William Shatner made TV history on November 22nd, 1968 with the first interracial kiss between on television.
Invited to join the board of directors of the National Space Institute, NASA asked her to participate in its astronaut recruitment program for the space shuttle project. Three of her recruits were on the ill-fated Challenger mission. For her work, she received NASA's distinguished Public Service Award. She has a consultant firm, Women in Motion Inc. through which she produced and starred in the Smithsonian Institution's National Air and Space Museum film "What's in It for Me?".