LOS ANGELES, Aug. 16 (UPI) — A new photo has been released of Pennywise the Dancing Clown from Stephen King's "It."
Entertainment Weekly debuted a new photo Tuesday of Bill Skarsgard in costume as the demonic entity. The 26-year-old Swedish actor will play the character in Andres Muschietti's forthcoming adaptation of King's novel.
Skarsgard's costume draws elements from several time periods, including the Renaissance and Victorian eras. The combination hints at 'Pennywise's' agelessness as an immortal, supernatural being, costume designer Janie Bryant told the magazine.
"The costume definitely incorporates all these otherworldly past lives, if you will," Bryant said. "He is definitely a clown from a different time."
"There is almost a doll-like quality to the costume" she added. "The pants being short, the high waistline of the jacket, and the fit of the costume is a very important element. It gives the character a child-like quality."
"It" follows a group of children terrorized by a shape-shifting creature that most often appears in the form of 'Pennywise.' Skarsgard had discussed the character's "child-like" quality in a July interview with EW.
"There's a childishness to the character, because he's so closely linked to the kids," he said. "The clown is the manifestation of children's imaginations, so there's something child-like about that."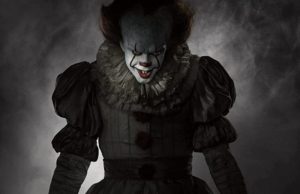 "It" was previously adapted as a two-part TV movie with Tim Curry as Pennywise. Muschietti told Variety in October that his version will "update" the story and include "more surprising" terrors.