HOLLYWOOD, June 16, 2016 (Gephardt Daily) — Supergirl has found her Superman.
"Teen Wolf" star Tyler Hoechlin has been tapped to play the iconic role of Superman on The CW series, according to Entertainment Weekly.
Hoechlin is known for playing Martin Brewer in "7th Heaven" as well as Derek Hale in "Teen Wolf." He is also slated for the "Fifty Shades of Grey" sequel "Fifty Shades Darker" with Dakota Johnson and Jamie Dornan.
Hoechlin has signed the deal to play Clark Kent/Superman in the first two episodes of the new season of the show, which has switched networks from CBS to The CW.
The season two opener has Clark Kent visiting his cousin Kara, played by Melissa Benoist, in the fictional town of National City.
Series producer Andrew Kreisberg said in a recent interview, "Greg (Berlanti) and I have wanted to work with Tyler for ages, so this worked out perfectly because Tyler is Superman." He added, "We are so thrilled and humbled to add another amazing actor to the legacy of this iconic character."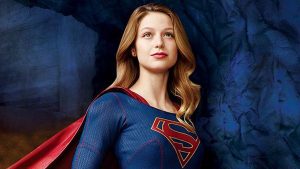 EW.com reports, this will be the first time that viewers will truly see Superman, his presence has been felt on the show. The Man of Steel has kept up a relationship with his cousin via online correspondence and even appeared as a child when Kara suffered from the "Black Mercy."
He also appeared in the final episodes of the season when Non set off a doomsday device.
According to Screen Rant, there are 16 actors who have suited up as Superman for different TV series, movies and, yes, even the Broadway Stage.
Actor Ray Middleton had the privilege of being the first person to ever portray Superman in public during the 1939 World's Fair.
In 1966, Bob Holiday starred as the singing Superman in the Broadway production titled "It's a Bird.… It's a Plane…. It's Superman," and had a total of 129 performances.
Others who have portrayed the Man of Steel are Kirk Alyn, George Reeves, Christopher Reeve, Dean Cain, Tom Welling, Brandon Routh and most recently Henry Cavill.
The addition of Tyler Hoechlin to the "Supergirl" universe comes as news of a giant CW series crossover which includes "Supergirl," "Arrow," "The Flash" and "DC's Legends of Tomorrow" slated for December.
"Supergirl" will return Mondays this fall at 8 p.m. ET on The CW.