July 24, 2015 — (Gephardt Daily) — There are three films of note hitting theaters this weekend, "Pixels," "Paper Towns" and "Southpaw."

"Pixels"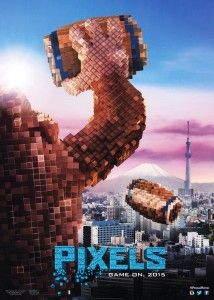 Starring: Adam Sandler, Michelle Monaghan, Josh Gad
Directed by Chris Columbus
Columbia Pictures / Rated PG-13
As kids in the 1980s, Sam Brenner (Adam Sandler) and Will Cooper (Kevin James) saved the world thousands of times – at 25 cents a game in the video arcades.
Now, they're going to have to do it for real.
In "Pixels," when intergalactic aliens discover video feeds of classic arcade games and misinterpret them as a declaration of war, they attack the Earth, using the video games as the models for their assaults.
Now U.S. President Cooper must call on his old-school arcade friends to save the world from being destroyed by PAC-MAN, Donkey Kong, Galaga, Centipede, and Space Invaders.
Joining them is Lt. Col. Violet Van Patten (Michelle Monaghan), a specialist supplying the "arcaders" with unique weapons to fight the aliens.
There are a few laughs in the movie, but not enough. The special effects are anemic and the story is bland.
I can't really find a good reason to recommend the film other than if your air conditioning is out, this is a mindless way to cool off on a hot day.
"Pixels" gets a D and is rated PG-13.
"Paper Towns"
Starring: Nat Wolff, Cara Delevingne and Halston Sage
Directed by: Jake Schreier
20th Century Fox / Rated PG-13
Adapted from the bestselling novel by author John Green, "Paper Towns" is a coming-of-age story centering on Quentin and his enigmatic neighbor Margo, who loved mysteries so much she became one.
After taking him on an all-night adventure through their hometown, Margo suddenly disappears – leaving behind cryptic clues for Quentin to decipher.
The search leads Quentin and his quick-witted friends on an exhilarating adventure that is equal parts hilarious and moving.
Ultimately, to track down Margo, Quentin must find a deeper understanding of true friendship – and true love.
"Paper Towns" is an exquisite film with wonderful performances from its cast. The story is compelling and the film offers a very human balance between humor and angst. "Paper Towns" will certainly be on my "Best Films of the Year" list.
It gets an A and is rated PG-13.
"Southpaw"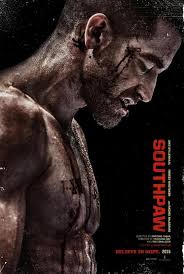 Starring: Jake Gyllenhaal, Rachel McAdams and Forest Whitaker
Directed by: Antoine Fuga
TWC / Rated R
"Southpaw" focuses on boxer Billy Hope, who turns to a legendary trainer to help him get his life back on track after losing his wife in a tragic accident and his daughter to child protection services.
Jake Gyllenhaal turns in an amazing performance in "Southpaw." Last year I said that "Nightcrawler" was Gyllenhaal's best performance to date. I believe Gyllenhaal trumped that performance and has reset the bar with "Southpaw."
Supporting him are Rachel McAdams and Forest Whitaker. Both of these roles are Oscar-caliber and hopefully will not be forgotten when its time to announce the nominations.
"Southpaw" is a must-see film. Period. It gets an A and is rated R.