SALT LAKE CITY May 6, 2016 (Gephardt Daily) — Opening this weekend is the much anticipated film "Captain America: Civil War," starring Chris Evans, Robert Downey Jr., Scarlett Johansson, Jeremy Renner and Sebastian Stan.
Industry experts are estimating "Captain America: Civil War" will knock Disney's "The Jungle Book" off the top branch of the box office tree. The domestic estimates are somewhere in the $175 million to $200 million range in ticket sales, according to Box Office Mojo. Internationally, "Civil War'"got off to an excellent start overseas with an estimated $200.4 million internationally.
"The Jungle Book" will dip to the second position with an estimated $20 million for the weekend with "Mother's Day" taking third place and "Keanu" in the fourth slot. Rounding out the Top 5 will be "Barbershop: The Next Cut."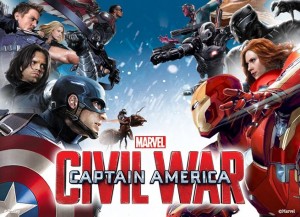 The Review:
With many people fearing the actions of super heroes, the government decides to push for the Anti-Hero Registration Act, a law that limits a hero's actions. This results in a division in The Avengers.
Iron Man stands with this Act, claiming that their actions must be kept in check otherwise cities will continue to be destroyed, but Captain America feels that saving the world is daring enough and that they cannot rely on the government to protect the world.
This escalates into an all-out war between Team Iron Man (Iron Man, Black Panther, Vision, Black Widow, War Machine, and Spiderman) and Team Captain America (Captain America, Bucky Barnes, Falcon, Sharon Carter, Scarlet Witch, Hawkeye, and Ant Man) while a new villain emerges.
"Captain America: Civil War" is a nonstop, edge-of-your-seat action film. Directed by brothers Anthony and Joe Russo, the film never lets its guard down. The script is crisp and makes full use of each character as they decide whether or not to have sanctions and limitations imposed upon them, which arguably will hamper their superhero activities.
Chris Evans is perfect as 'Captain America,' and equally perfect is his counterpart, 'Tony Stark / Iron Man,' played by Robert Downey Jr. There are some great, humorous scene stealing moments from 'Spider-Man' Tom Holland and Paul Rudd as 'Ant-Man.'
As I stated above, the film could not work without a script as well written as Christopher Markus and Stephen Feely's brilliant screenplay.
The film shifts seamlessly from dialog to action without losing a single beat, all the while captivating the viewer as each superhero has that all-important important screentime.
Needless to say "Captain America: Civil War" is everything I expected and more. It is simply the best film in the Avenger Universe to date.
The film gets an A and is rated PG-13.