November 13, 2015 (Gephardt Daily) ─ Three films hit theaters today. Among them the highly anticipated "The 33," which tells the story of the 33 Chilean miners who were trapped in a collapsed mine for 69 days.
Also opening this weekend is a Christmas offering called "Love the Coopers," and "My All American," the story of University of Texas at Austin football coach Darrell Royal.
"My All American"
Starring Aaron Eckhart and Finn Wittrock
Directed by: Angelo Pizzo
Rated PG
From Angelo Pizzo, the writer of "Rudy" and "Hoosiers," comes "My All American," the true story of one of legendary UT Austin football coach Darrell Royal's (Aaron Eckhart) most beloved player, Freddie Steinmark, an underdog who led his team to a championship season and was an inspiration both on and off the field.
The biggest problem with the film is its predictability. "My All American," follows the "How to Make a Sports Film" guide so devoutly, that there are no surprises in the film.
Despite the quality of the acting, particularly Eckhart's role as coach Royal, the film has a glossy, whitewashed feel to it leaving the viewer unsatisfied.
"My All American" gets a C and is rated PG.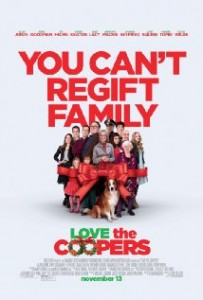 "Love the Coopers"
Starring: Diane Keaton, John Goodman, Olivia Wilde and Alan Arkin
Directed by: Jesse Nelson
Rated PG-13
When four generations of the Cooper clan come together for the annual Christmas Eve celebration, a series of unexpected visitors and unlikely events turns the night upside down, leading everyone toward a surprising rediscovery of family bonds and the spirit of the holiday.
Unlike several films using we've seen using the intersecting subplot hook, like "Christmas with the Kranks," "Valentine's Day" and "New Years Eve" to name a few, this one at least is trying to be earnest in its delivery.
Most of the film's storylines seem rather tacked on and unnecessary, plus the film's characters are stereotypical and completely interchangeable with just about any other film in this genre.
Give yourself a real Christmas present and just watch "National Lampoon's Christmas Vacation" and pass this one by.
It gets a D and is rated PG-13.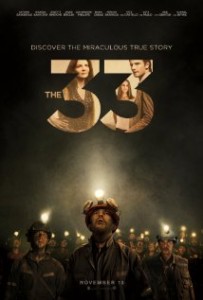 "The 33"
Starring: Antonio Banderas and Lou Diamond Phillips
Directed by: Patricia Riggen
Rated PG-13
Based on the real-life event, when a gold and copper mine collapses, it traps 33 Chilean miners underground for 69 days.
Although a bit long in its storytelling, the film manages to engage the viewer with its humanity. "The 33" is a well-paced, well-acted character study about survival against the odds.
And we humans love a story about beating the odds.
Antonio Banderas plays Mario Sepulveda, a veteran miner who has seen it all. Banderas puts in a strong performance as a man who, when faced with impossible odds, just will not give up.
"The 33" is the ultimate underdog story, and even though we know the outcome, it does have an edge-of-your-seat factor to it.
The film deserves a B+ and is rated PG-13.