"Tron 3" Is No Longer on Disney's Docket
LOS ANGELES, CA –  May 31, 2015 (UPI) — Disney has dropped plans to make "Tron 3," a sci-fi sequel starring Olivia Wilde and Garrett Hedlund.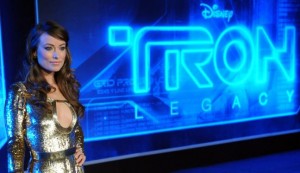 The Hollywood Reporter said the project had never officially been green-lit, but it was expected to start shooting this fall in Vancouver with director Joseph Kosinski at the helm.
The third installment in the franchise is now off the schedule. THR offered no specific reason why the film was scrapped, but noted the studio lately has been focusing on developing live-action versions of its beloved animated movies such as "Cinderella" and "Beauty and the Beast."
Disney reportedly had been mulling a follow-up to "Tron: Legacy" since the movie became a blockbuster in 2010. "Legacy" was the sequel to the 1982 cult-classic film starring Jeff Bridges and Bruce Boxleitner.