'TV Land' Pulls "The Dukes of Hazard" from It's Line-Up Over Confederate Flag Issue
The Confederate flag debate has now gone into Hazzard County, home of Bo and Luke Duke.
TV Land confirmed in a press release to the media Tuesday, it is pulling The Dukes of Hazzard reruns from its TV lineup.
The cancellation comes just a week after Warner Bros. Consumer Products said it would stop licensing toy cars and models featuring General Lee.
Even though fans may not be able to purchase "The Dukes of Hazzard" memorabilia, the show is still available to stream on Amazon.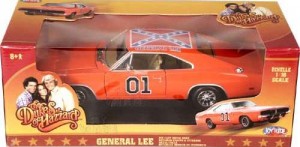 Actor Ben Jones, ('Cooter' on the TV series), owns a few stores in Tennessee and Virginia and sells memorabilia from the show has vowed not to pull the flaf from store shelves.
Earlier Tuesday Jones posted on his Facebook page, "I think all of Hazzard nation understands that the Confederate battle flag is the symbol that represents the indomitable spirit of independence which keeps us 'makin' our way the only way we know how." He added, "That flag on top of the General Lee made a statement that the values of the rural South were the values of courage and family and good times."
The protest over the flag began with the nine African-Americans killed recently during a Bible study in Charleston, South Carolina. The killings were said to be racially motivated.
Gov. Nikki Haley of South Carolina had requested the Confederate flag be removed from Statehouse grounds and Gov. Robert Bentley of Alabama ordered the removal all Confederate flags from the grounds of the Alabama state capitol.
As the protests have grown, major stores (both brick and mortar and on line) have taken the Confederate flags off their shelves and out of their catalogs. Walmart, Amazon and Ebay have quit selling all "Confederate flag" merchandise.