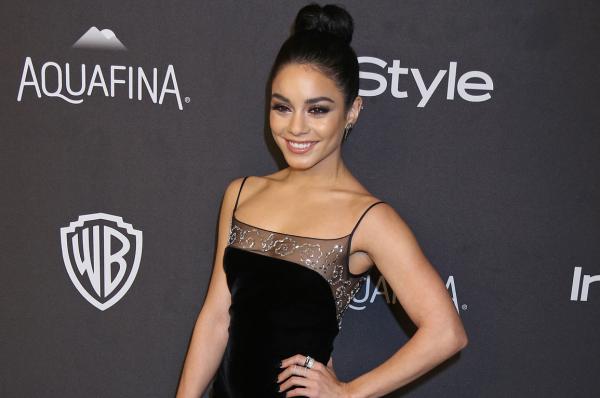 LOS ANGELES, Jan. 22 (UPI) — Vanessa Hudgens says Grease: Live will stay true to the 1978 movie.
The 27-year-old actress discussed the forthcoming Fox live production on Wednesday's episode of Jimmy Kimmel Live. Hudgens told Kimmel she jumped at the chance to play Rizzo, although she always imagined herself as Sandy as a girl.
"I definitely watched it growing up," the star said of the movie Grease. "I feel like it was always a part of my life. I was always Sandy, I was never Rizzo … [but] I welcomed Rizzo. She's such an amazing part. Now that I'm older, I'm like, 'Oh my God, she's tough' … She's got grit."
Grease, starring John Travolta as Danny Zuko and Olivia Newton-John as Sandy Olsson, is based on the 1971 musical of the same name. The movie was a critical and commercial success, and the live adaptation will reportedly stay true to the film.
"We're honoring the movie for sure and it still has that same spirit, but it's a family show and we had to modify a few things," she said of the film's stronger language. "We actually have Didi [Conn], who played the original Frenchie, in our production, and she's amazing."
Conn will play the waitress Vi, with Julianne Hough as Sandy, Aaron Tveit as Danny, Carly Rae Jepsen as Frenchy and Carlos PenaVega as Kenickie. Grease: Live will premiere Jan. 31 with Thomas Kail as director and choreography by Zach Woodlee of Glee.
"Rizzo does still have a pregnancy scare," Hudgens told reporters at the Television Critics Association winter press tour this month. "Even though [the production] has this fun lightheartedness about it, there's some real stuff going on."
Hudgens is best known for playing Gabriella Montez in the Disney Channel High School Musical movies, and reunited with co-stars Ashley Tisdale, Monique Coleman, Corbin Bleu and Lucas Grabeel for the film's 10th anniversary this week.